It's hard to track how many of our alumni are breaking through to the larger creative industry as award winning actors, writers, filmmakers and producers – but we have to start somewhere!
Currently trending on the Irish Netflix is feature film "Broken Law"  the gritty crime drama by filmmaker Paddy Slattery and starring two former students, Tristan Heanue and John Connors. (Both Tristan and John are also award winning filmmakers as well as actors!).  These independent films are made with blood and sweat, and it is a real testimony to the talent that they can make a mark in the international market.
Next up, here is the newly released feature film, The New Music by filmmaker Chiara Viale
(from our screenwriting classes) and starring Cilléin McEvoy from our advanced actor training! After a Young Onset Parkinson's diagnosis a classically trained pianist embarks on a path of self discovery leading him to a punk band. Their rebellious lifestyle and music provide a distraction to his troubles and a sharp contrast to his old life.
Then we have filmmaker, actor, director and producer Robbie Walsh !  Robbie has several feature films such as Split and Eden, which are currently winning one award after another and can be watched on various streaming networks.  It has been my pleasure to be an actor in the upcoming Robbie Walsh feature film The Letters, based on the cervical cancer scandle.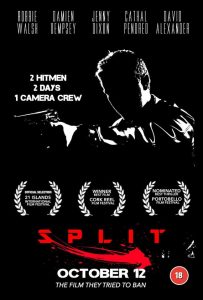 Listen to Robbie speak in detail about the independent film market, his films,  and The Letters in this recent interview:  https://www.youtube.com/watch?
We have a LOT more upcoming news about our working alumni!
It is my hope to begin a more regular posting here to celebrate the success of our former students, but in the meantime following on social media and our newsletter is the best way to hear the latest.
Click links this website to follow us on Facebook, Instagram, Twitter, Youtube and Linked-in!
See our Alumni page to see a few more former students who are working!
See our Testimonials page to hear more about what people think of our classes.
If you are an alumi with news do email us at info@flyingturtleproductions.com!